The Oakland Plan public engagement opportunities through City of Pittsburgh's Department of City Planning are underway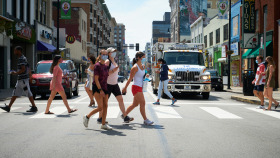 The Oakland Plan through City of Pittsburgh's Department of City Planning is underway. Public engagement is live online at https://engage.pittsburghpa.gov/oakland now. Join us in sharing input on how Oakland can be a better place to live, work, study, and play.
# # #
Dear Fellow Commuter, Residents, Employees, Students, and Visitors:
The City of Pittsburgh Department of City Planning and the Oakland community are working together to develop a neighborhood plan for Oakland. Over the past nine months, I have been working with stakeholders from resident organizations, universities and businesses in the neighborhood as part of the Steering Committee. Through our time together, we have learned more about the needs of each other and how Oakland can be better for everyone. Summaries of our meetings are available here. https://pittsburghpa.gov/dcp/oakland-plan-steering-committee
The first public phase of the project is beginning now. Due to COVID-19, these public engagement opportunities will occur online and through the phone. To participate in engagement activities, visit engage.pittsburghpa.gov. These activities provide the community a place to share input, needs, and desires on the neighborhood.
In addition, if you are interested in being a part of this work, I encourage you to join an Action Team https://pittsburghpa.gov/dcp/action-teams. These groups are specialized groups focused on Community, Infrastructure, Development, Mobility, and Equity and Inclusion. City Planning staff and Steering Committee members are co-chairing these groups to bring expertise and community input together.
As active members of the Oakland community, I hope you will all take the time to participate in these opportunities and plan for the future of Oakland.

Respectfully,

Mavis Rainey
Executive Director