WHAT YOU—YES, YOU—CAN DO TO IMPROVE PITTSBURGH'S AIR QUALITY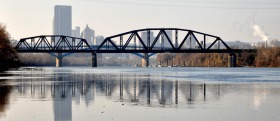 To hear Carnegie Mellon's Illah Nourbakhsh tell it, things are downright petrifying. "Air pollution across the U.S. is killing more people than prostate cancer, AIDS and breast cancer put together," he says.
Robotics professor and creator of the revolutionary Breathe Cam, a system of four cameras which documents local air levels 24/7, Nourbakhsh glances out the window of his Newell-Simon Hall office on what looks like a perfect summer day. "Ninety percent of the country has better air than we do," he frowns. "Fine particulates–you can't see them across the street, but you can see them accumulated on the horizon." He flips around a laptop displaying a live image of the Ohio River, the air noticeably brown. "We are essentially drowning."
That comes as news to a lot of folks. On beautiful days, when compared to the Darkness at Noon photos from pre-1945, when burning soft coal was de rigueur throughout the Ohio Valley–Pittsburgh is a veritable Garden of Eden. Except it's not.
The Myths
Myth #1: The air is clean.
According to The Heinz Endowments' Science and Environment Program Director Philip Johnson, Pittsburgh is one of the country's most polluted areas, on a par with the notorious Los Angeles basin, Central California trough, Cleveland and others. In terms of the infamous–and deadly–PM2.5 (particulate matter), a full 90 percent of the country has better, safer air. "No matter how you add up the numbers," he says, "how you do the metrics, bad air collects in places you want the best air–river valleys, which serve as troughs for barge traffic, mills, cars, diesel, railroads and coke emissions."
Read more: NextPittsburgh.com