Don't Be a Road Zombie - Oakland Safety Enforcement Day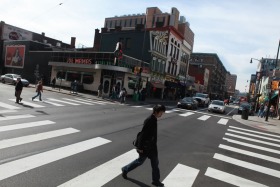 OTMA and our transportation partners encourage all commuters to be street smart!
A Safety Enforcement Event was held in Oakland on Wednesday, September 28, 2011 OTMA in partnership with PennDOT, the Allegheny County Health Department, City of Pittsburgh Police, University of Pittsburgh Police, Carnegie Mellon University Police, Carlow Universtiy Police, and Port Authority Police.
The event focused on motorists, pedestrians and cyclists' safety while traveling through Oakland. Aggressive drivers, illegaly parked cars, loading zone violators, jaywalkers, and reckless cyclsits were stopped by police and either given a warning or a ticket, depending on the severity of their action.
More than 58 citations and 48 warnings were issued during the event.
Volunteers from the Allegheny County Health Department and OTMA distributed safety information (below) to pedestrians as they passed by on Fifth & Forbes Avenues.
News Coverage of the Event:
Check out our series of Street Smarts cards, developed especially for pedestrians, bicyclists, and drivers. We also have a special set of cards for Construction Zone driving and a RESPECT all modes card.
Street Smarts cards are available for download below, or you may contact OTMA to request a quantity.